Emergency Responder Radio Systems Bi-Directional Amplifiers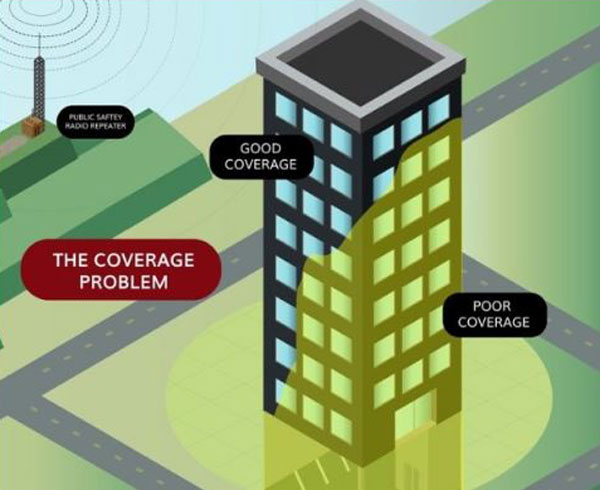 What is a Emergency Responder Radio System / Bi-Directional Amplifier and why is it required?
An Emergency Responder Radio System or ERRS, is often referred to as a Bi-Directional Amplifier (BDA) or a Distributed Antenna System (DAS). These systems boost the signal strength of Emergency Responders' Radios so they can effectively communicate with one another. When communication breaks down in an emergency, mistakes can be made and life can be lost. How do we prevent this from happening? The installation of an ERRS. The ERRS can boost the first responders' radio system's signal and enable them to maintain communication in an emergency. Responders can effectively do their job and have a much more efficient response with higher rates of success. These systems are required by the National Fire Protection Agency (NFPA), Ohio Fire Code (OFC) and the International Building Code (IBC). As well as being regulated by Underwriters Laboratories (UL), and the Federal Communications Commission (FCC).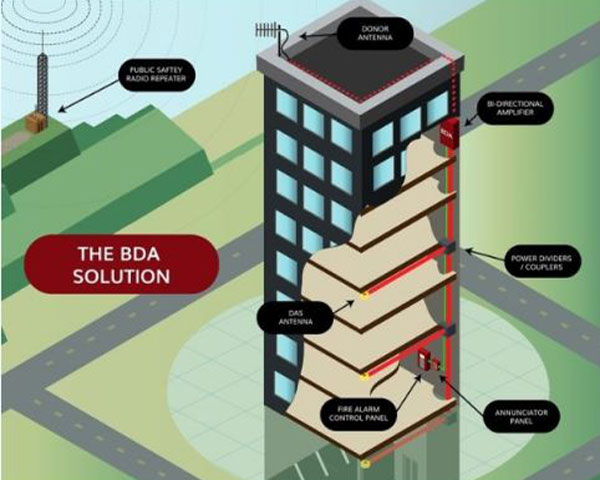 The addition of a BDA system can aid in the effectiveness of Emergency Responders to protect life and property.
How we can help you?
At Genesis Building Systems we have an FCC GROL certified team that can assess your specific buildings needs with an on-site evaluation. Each structure is unique, therefore so must the system design. Being a Full-Service organization, our work does not end after design and installation. We offer maintenance, testing & inspection services to maintain a healthy BDA system so our clients and emergency personnel can have the peace of mind that, should an emergency happen, communication would go uninterrupted.
Ensuring Effective Communication in Critical Situations
Effective communication is crucial in emergency response situations, where quick and accurate information exchange can save lives. Emergency Responder Radio Systems (ERRS) are specialized communication systems designed to provide reliable and interoperable communication for emergency responders. This essay will delve into the importance of ERRS, their components, challenges, and the advancements made to enhance emergency communication capabilities.
Importance of ERRS
Emergency responders, including firefighters, police officers, and emergency medical services (EMS) personnel, rely heavily on communication systems to coordinate their efforts during emergencies. ERRS play a vital role in ensuring seamless communication in high-stress situations, enabling responders to exchange critical information, make informed decisions, and coordinate their actions effectively.
Components of ERRS
Radios and Communication Devices ERRS utilize a range of radios and communication devices, including portable handheld radios, vehicle-mounted radios, and base stations. These devices are designed to operate on specific frequencies allocated for emergency communication, ensuring secure and dedicated channels for responders.

Infrastructure and Network ERRS require a robust infrastructure to support communication across a wide area. This infrastructure includes transmission towers, repeater systems, and network connectivity to ensure reliable coverage and signal strength. The infrastructure is designed to withstand natural disasters and other emergencies to maintain communication continuity.

Interoperability and Compatibility Interoperability is a critical aspect of ERRS, allowing different agencies and responders to communicate seamlessly, regardless of the specific radio systems they use. Standards such as Project 25 (P25) and Digital Mobile Radio (DMR) ensure compatibility between different manufacturers and agencies, enabling interoperability during joint operations.
About BDA Systems
Tested and evaluated in accordance with UL 2524 1st Edition requirements for In-building 2-Way Emergency Radio Communication Enhancement Systems, the Honeywell BDA solution enhances two-way radio signal strength inside buildings, tunnels, and other structures. Our Class B, Bi-Directional Amplifier Solutions are a high power, band-selective radio signal booster system that can be designed and customized to meet all public safety frequency band ranges.
As a general contractor, electrical contractor, project manager, or building owner, you may know that many jurisdictions now require NFPA compliant public safety and emergency responder coverage as a prerequisite for getting an occupancy permit. Understanding the details of how coverage is tested and how it can be improved is complicated and varies by jurisdiction. Our team can survey your jobsite even before construction is started to get baseline signal strength readings. With these results, and based on the proposed construction of the building, we can tell the probability of a system being required.
In addition to these equipment and signal guidelines, there are also coverage testing requirements. Coverage generally must be tested according to a "20 grid" or "40 grid" process. In grid testing, each floor of a building is split into 20 or 40 sections, and each section is tested using a public safety radio to ensure that there is connectivity and that the signal meets minimum requirements.
In most buildings with poured-concrete structures or underground garages, a public safety amplification system will be needed. Other occupancy's that may be required to add these systems are, Airports, Apartment Buildings, Assisted Living Facilities, Commercial Buildings, Convention Centers, Governmental Buildings, Hospitals, Hotels, Manufacturing Plants, Parking Garages, Retail Shopping Malls, Schools, Campuses, Stadiums, Arenas and more.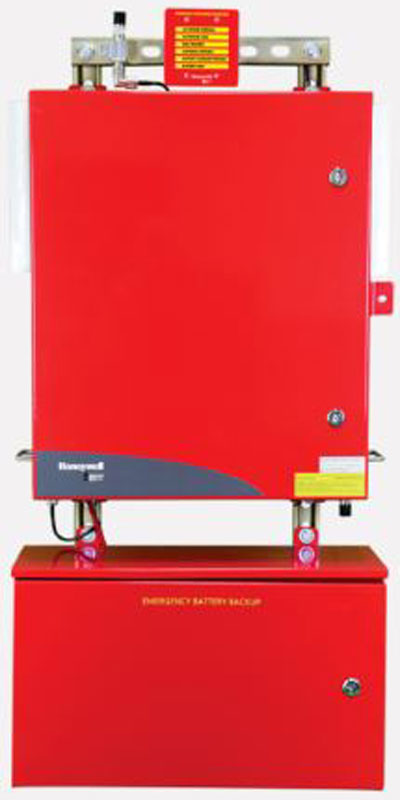 Let's Talk!
Ask us how we can help you with your emergency responder radio system! Schedule service or contact us for more information.